Why you should use hashtags on Instagram
Hashtags are essential in expanding your reach and getting you noticed on Instagram and they can't be arbitrary or made-up. You need a good strategy.

Why?
Because using a niche-specific hashtag puts your content into a category and makes it easier to find. They're basically a huge filing system for Instagram to determine which content fits in with which category. Anyone using or searching for a particular hashtag will see all of the content associated with it. So they don't just help you get noticed by your target audience, they also help that audience to find your content.
Using the right hashtag helps to positively build your brand and find the right followers who are going to provide you with valuable engagement.
Want to learn about the best hashtags to use in 2018? Take a look at the list we've compiled.
It's not enough just to use the most popular ones though. They can link to so much content that yours will be lost in the proverbial crowd. You need to tailor your hashtags specifically to your content.
In keeping with the 2018 algorithm, where your content appears on the hashtag search page depends on how many "likes" and comments it received, how popular the hashtag is and how recently you shared it.
There are a few things to consider when choosing which hashtags to include in your content. We've put together this comprehensive guide to the world of hashtags and how to use them to reach potential customers, improve your engagement and snag more followers.
Do your research
If you haven't used Excel since high school, now's a good time to re-acquaint yourself. There's also Google Sheets if you don't have Microsoft Office, or just prefer to work online. Using a spreadsheet, you can keep a record all of your hashtags and track which ones get the most engagement and, therefore, which ones are likely to be best for your brand.
Of course, if this is just another thing that you haven't got time to add to your list, Growth Factor can help! Let the experienced management team assign your hashtags, schedule your posts and even create your content, whilst you sit back and watch the magic happen.
…Or use Instagram Insights hashtag analysis
If you just don't have the time to keep track of all your hashtags, another way to track the progress of their usage is to use the relatively recent feature on Instagram Insights. It not only tracks how much reach a post achieves, but it also looks at impressions and highlights whether that user found you via your hashtag or other means. It's not as thorough as keeping your own records, but it's very effective in saving you time!
Consider your niche
Check which hashtags your competitors are using, and which ones are getting the most engagement. Check which ones are most popular and follow suit. It could be useful to look at what influencers in your niche are hashtagging too – they're the ones who have already got this Instagram following business all wrapped up after all.
It's important to couple this with your own research, as not every brand in a particular niche is going to operate exactly the same, or have the exact same target audience.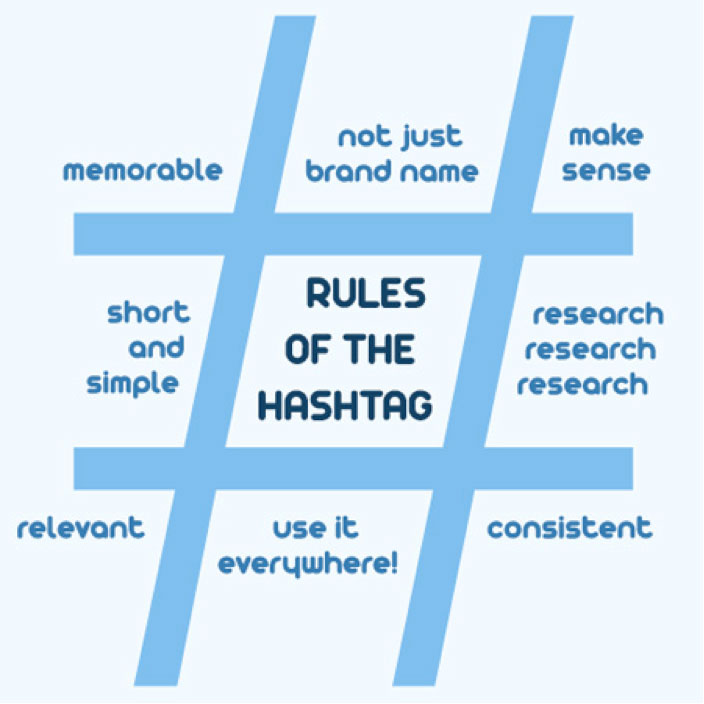 Narrow your focus
Another thing to consider is checking which of the hashtags you've found have a smaller volume of content and make sure you sprinkle some of those in there too. It's easier to be spotted in a smaller pool of content, and while you will potentially get a further reach with the more 'popular' hashtags, make sure you're using some of each.
For example, using #marketing, whilst it may seem relevant to what you're doing for your brand, will gather content from everything from hairdressers to restaurants. Make it as specific as you can, without being totally obscure.
Say I enjoy procrastinating with cute pictures of cats (hypothetically of course), #catsofinstagram will bring up a huge amount of content (90,429, 011 posts on this day, to be exact), but #norwegianforestcats will narrow down the search (670 posts), to specific content relating to those huge, beautiful furries, for me, or, you know, whoever it is doing the procrastinating.
Check related hashtags
When you type a hashtag into the search bar, it drops down to reveal related ones. This is a good way to collect different hashtags to try out on your posts.
Following hashtags
Another recent update was the ability to follow hashtags. Following your own brand's hashtag can be super useful in seeing who and how many people are engaging with it. It also allows you to directly engage in return with anyone who gives your brand a mention. This helps towards building relationships and creating an honest, personable brand.
Hashtags on your bio
You can now include clickable hashtags on your bio. This not only provides you with another useful bio-function to communicate with your audience and others in your community, but it also works to highlight your content.
Hashtags on your Stories
Another practical use of the hashtag is to attach a few to your Instagram Stories posts – another way to get your valuable content seen. This has the added bonus that if anyone searches that hashtag, your Story may become visible in their Stories queue at the top of the page, therefore reaching more and more users.
Don't over-hashtag
You can use a maximum of 30 hashtags on Instagram. However, there's no evidence that maxing out the number of hashtags on every bit of content you post increases your engagement. In fact, it can be quite off-putting and take away from your carefully curated content and your beautifully crafted caption.
There is a lot of conflicting advice over this one though, and the numbers seem to shift quite often. But the general rule of thumb seems to be somewhere between 8 and 14. At the moment, 11 is referred to as the 'magic number'. Don't rely on these statistics though, it really is about figuring out what works for your brand and your followers, so experiment!
Different types of hashtags
It can be useful to your Instagram hashtag strategy to understand the different types of hashtags and what purposes they serve.
Campaign hashtags
Campaign hashtags can be a difficult strategy to orchestrate, but when done right they can be really effective. They can create brand awareness and bring together your community in a fun and engaging way, whilst also building your following and expanding your reach.
They're short-term hashtags linked to a specific advertising campaign. An example is #tweetfromtheseat, a campaign by Charmin that got people to give their hypothetical tweets, from the seat. It was funny and engaging and people across social media got involved.
You have to have an original idea and a catchy tag for it to work; it needs to take off. You don't even need to have a specific product if your idea is interesting enough. Play around with it and run it past some friends and colleagues to figure out what would work best for your brand and resonate most with your target audience.
Branded hashtags
Branded hashtags are the ones that pertain to a certain brand or business. They can be something as simple as your brand name or a product. It could just as easily be nothing to do with your name and everything to do with your brand identity. Just pick something that defines your brand and that you're happy being associated with.
A great way to utilise your branded hashtag is to encourage your followers to use it in their posts and get your name out to a wider community.
Community hashtags
Community hashtags are those that aren't connected to a specific brand but rather a concept or a subject that brings those in that niche community together.
To find these, check what those in your niche or your competitors are already using and have a look at them. Joining your brand to a wider community through the use of one of these hashtags can help extend your reach exponentially.
If you're struggling with hashtags and how to make them work for your brand, get in touch with Growth Factor. Their packages include bespoke, focused strategies to grow your Instagram brand online, including appropriate and well-placed hashtags. Why not leave the messy business of choosing the right hashtag to the experts?